I have two granddaughters, 7 and 4, who love Barbies.  My daughter loved Barbies when she was their age, and so did my wife when she was a little girl.  When they take a bath, there is hardly enough room for the granddaughters they put in so many Barbies and Kens, princesses and princes.  Of course, all their close have to come off, so we end up with piles of wet doll dresses and piles of nude dolls.  They maybe will dress a few of them before the next time they are at our home and take a bath, but all the clothes come off before they are done with the bath and the cycle repeats.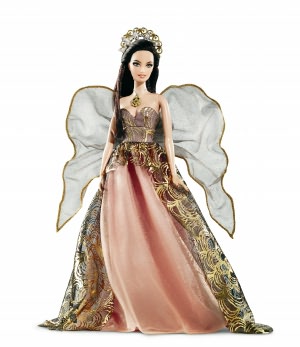 Many Barbies are on sale for 50% off, including many of the Barbie Collector and Famous Friends series. 
Illustrated here is the BARBIE Collector – Famous Friends – Couture Angel that lists at $44.95 and is currently being offered for $22.47 by Barnes & Noble.  Many other Barbie items are offered as well, DVDs, doll sets and accessories, doll houses, and books.  All are discounted.  Get an additional 5% off if you are a member or join today.  As a member, you also get $25 of a color Nook® or $10 off other Nooks®.